Gwyneth Paltrow poses in fishnet stockings and Louis Vuitton necklace, earrings, and rings, while topless (well, Paltrow is almost naked).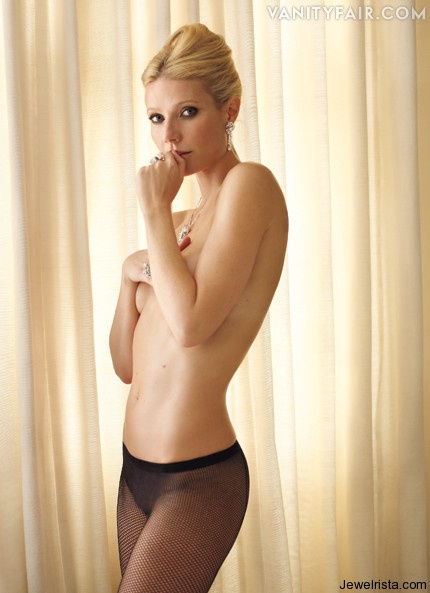 Photograph by Mark Seliger.
Once considered the goody-two-shoes of Hollywood, Gwyneth Paltrow has showed her more risqué side by posing naked but for a pair of fishnet tights and Louis Vuitton jewellery for Vanity Fair magazine's August jewellery calendar.
Paltrow, who turns 40 later this year, appears as Miss August in a special Vanity Fair on Jewellery calendar.
Last year, she disclosed that she had followed an arduous regime to get into shape wearing skimpy shorts to promote her film Iron Man 2.
On her website, Goop, she detailed the process. After a 7am cup of green tea, breakfast is either a "Think Thin" protein bar or a "Clean Shake" comprising almond milk, powder supplements and "a handful of blueberries (optional)".
Then it is a 90-minute workout followed by a glass of kale juice – "a sort-of grassy lemonade" – and on to a lunch of "super low carb, low calorie tortilla wraps".
In a second photo from the same collection, Gwyneth Paltrow wears diamond, sapphire, garnet, tsavorite, spinel, and spessartite L'Ame du Voyage necklace, by Louis Vuitton.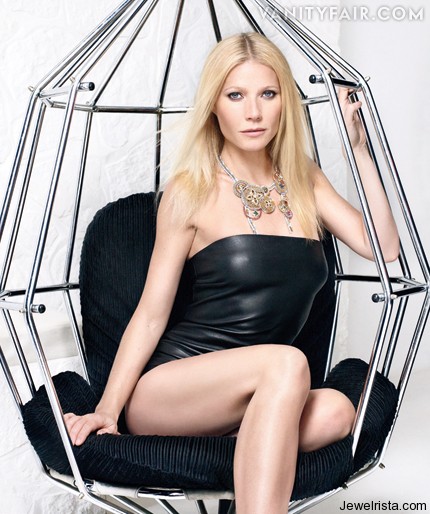 Image source: 1.
Article source: 2.