One part of being the bride is having the right accessories. Not only are rings considered to be an essential piece, necklaces too, should be greatly considered. Here are some of the choices and selections of bridal necklaces for the happy bride-to-be.
1. Thomas Laine Silver Swarovski Crystal Feather Necklace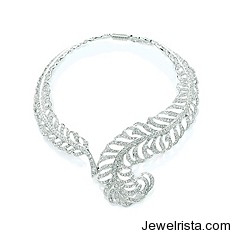 A necklace that's perfect for that strapless wedding gown.  Perhaps, you can even pair this piece from Thomas Laine made with Swarovski crystals with your floral inspired ring to complete the look.
 2. Haute Bride Asymmetrical Brooch Necklace with Pearl Strand by Perfect Details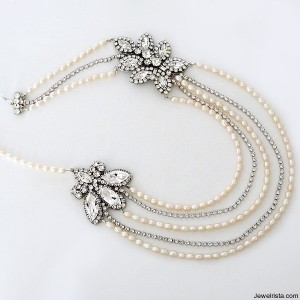 As they say, pearls never go out of style. This necklace from Perfect Details gives a whole new modern combination look for that pearl classic.
3. Kendra Scott Livia Necklace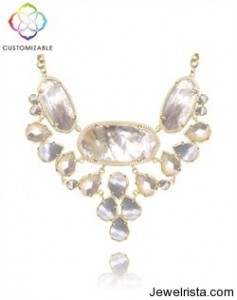 A statement necklace for the beautiful bride is a new trend that's becoming famous. Not only are these necklaces beautiful in its gaudiness, it also serves its purpose for beautifying the simple bride and setting the attention on her for her special day. This customizable piece from Kendra Scott proves to be good choice.
4. Bella Bleu Harlow Necklace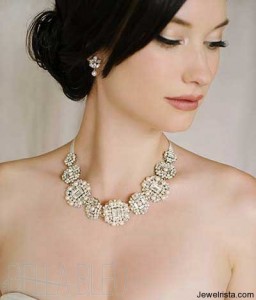 This vintage inspired piece from Bella Bleu has made it to this list because of its beauty in simplicity. The pieces from this designer are also wearable as head bands and sashes so they are quite flexible in use.
5. Anna Bellagio Keirsten Necklace and Earring Set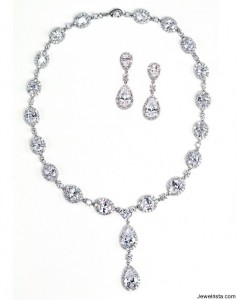 A necklace that will go well with almost any wedding dress, this classic design is the epitome of classy and elegance. It's the perfect accessory for the bride who wishes for a simple but sophisticated piece.
 6. Macy's Diamond Swirl Drop Necklace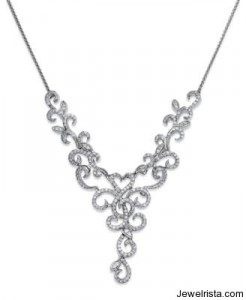 These swirls in the necklace make for a pleasing design amidst the white background of a wedding. This white gold piece form Macy's will surely bring out the best features of a simple gown.
7. Perfect Details Sorrelli Indian Sapphire Oval Crystal Pendant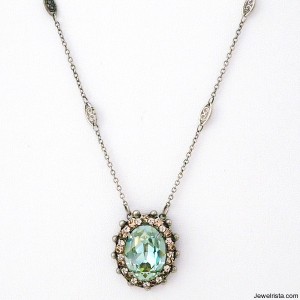 This necklace piece from Perfect Details will provide that much needed color touch on your all-white wedding event. It's an effortless necklace that will definitely stand out despite its simple design.
8. Anna Bellagio Eleanora Multi-Strand Pearl Necklace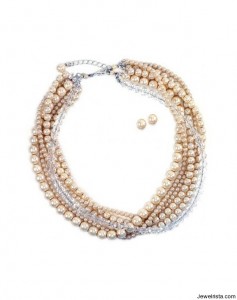 This champagne colored ensemble from Anna Bellagio is the perfect complement for your white gown. It's elegant, simple and not too gaudy. Plus, the various pearl strands just adds that much needed substance that is usually absent from the usual pearl necklace.
9. Thomas Laine White Gold, Pearl And Diamond Necklace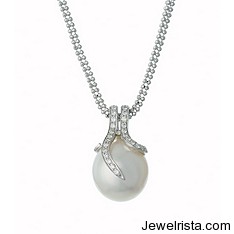 White gold, diamonds and pearls make a very elegant combination as seen from this necklace from Thomas Laine. It's simple, elegant and can be worn with any type of wedding gown.
10. True Romance Diamond Necklace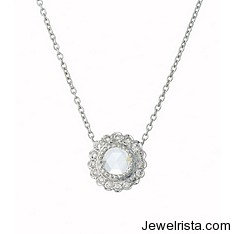 Diamonds are a girl's best friend. No matter what form they may take, they are simply beautiful in its finished form. This vintage inspired necklace by that can pass off as some sort of heirloom, by Thomas Laine is the perfect example of that.