A lot of girls are looking for trendy and stylish jewelries to pair with their fashion statement. One of the best examples of trendy jewelries made by wonderful designers is the collection of Venessa Arizaga.
The Designer and Her Creations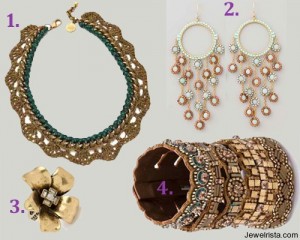 Venessa Arizaga is from Dumont, New Jersey. She also has a Puerto Rican and Korean background. Her creations are inspired by every bit of the things she loves. She collected things such as vintage jewelries, seashells, and charms. All of which has every imaginable designs and details. She was inspired by all the accessories and jewelries she mixed and matched from her jewelry box.
The idea of putting together natural and new things has sparked her to create jewelries to share with everyone. She designs different styles of jewelries and accessories for around 9 years before finally introducing her collection into the industry.
Venessa Arizaga is a former design director for Zac Posen. She rapidly became popular for being a designer for some of the well-known fashion industries today. She began making jewelries while she was travelling around Puerto Rico in the year 2007. With an eye for unusual and brightly colored charms and beads, her creations which are inspired by Latin America will surely be a striking jewelry to wear for any outfit. Her accessories and jewelries are perfect for those individuals who have a very crafty and exotic side who loves experimenting when it comes to their looks.
Venessa describes those women who wear her creations to be a magpie. Those women who love wearing bold and shiny colors will definitely go for her designs. Her design signature is most likely to be very bright and fun.Her playful imagination has led in creating very innovative designs.
The jewelry line was introduced in the year 2010. Ever since it was introduced to the market, more and more women have fancied wearing one of Venessa creations. Some of the celebrities most likely to be seen wearing her creations are Dakota Fanning and Leighton Meester. Her designs were featured on Harper's Bazaar, Glamour, InStyle and Elle. The Opening Ceremony Showroom also represented some of her creations.