Flower Earrings
The spring is coming and with it the blossom of flowers. If you want to refresh yourself or a friend with some spring inspired jewelry, think flowers. These are 5 pairs of beautiful flower earrings. Happy Spring!
#1 The Antique Earring Style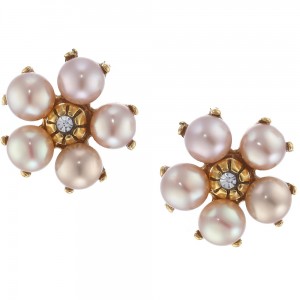 The Metropolitan Museum of Art Store features this elegant design of flower earrings. It is based on a jeweled forget-me-not flower of gold, diamonds, turquoise, and nephrite, resting in a rock crystal vase filled with "water." This beautiful pair of earrings was designed by the jewelry workshop of Peter Carl Fabergé (Russian, 1846–1920). The surprising price is $65 only.
#2 The Diamond Version of Flower Earrings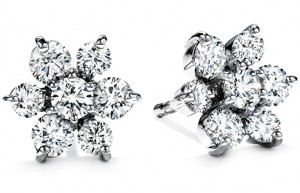 Designed by Hearts On Fire (site), this pair of flowery earrings is blessed with diamonds. The price tag is naturally high and depends on the stone.
#3 Expensive Pair of Spring Earrings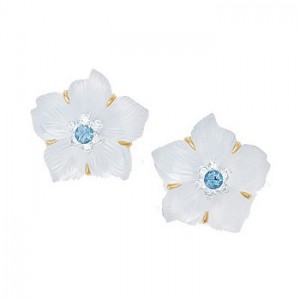 Jewelry designer Seaman Schepps indivdialluy sign each numbered pair of these magnificent flower designer earrings. Clematis flower earrings, mounted in 18k gold, composed of hand-carved rock crystal backed with mother-of-pearl petals set with sapphire and diamond cluster centers. Enjoy the beauty and don't bother visiting the Betteridge site unlenss you're willing to depart of $10,000.
#4 Flowery Earrings featuring Swarovski crystals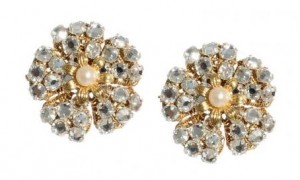 Still very bright and shiny, but with a more reasonable price tag, take a close look at this flowery pair of earrings. Jewelry Designer Miriam Haskell has her team send a certificate of authenticity with each pair. The Russian gold plated pansy filigree with hand-wired pave Swarovski crystals are priced at $280.
#5 Low Cost Spring Earrings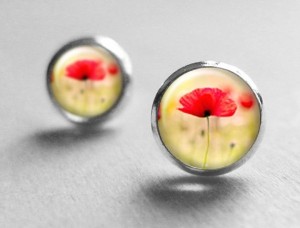 And finally, for the low budget option, this pair Red Poppy Flower Earrings is handmade and sold on Etsy for $8.90. Not a bad option for some spring online jewelry shopping.
Famous Jewelry Designers: More from the Jewelrista
Still hungry for jewelry design? Click for an interesting review about Famous jewelry designers from around the World.
Jewelrista is a magazine about jewelry design and designers. If this review of flower designer earrings for the spring got you interested, take a look at another review – America's Top 10 Jewelry Designers.