Jewelrista Interview with Jewelry Designer Paolo Costagli
From his New York City studio, Italian born top jewelry designer Paolo Costagli shares with Jewelrista that he would have wished seeing Grace Kelly wearing one of his jewelry pieces. And there is much more in this exclusive interview.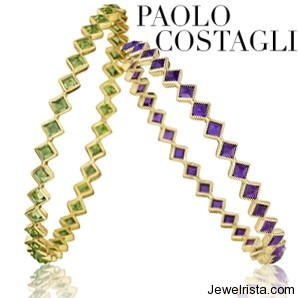 Jewelry designer Paolo Costagli started his career as a certified gemologist. After graduating, Paolo spent three years trading in emeralds. Aiming to design exquisite jewelry, Paolo decided to start his fine jewelry brand in 1993. Since then, Paolo Costagli has launched collections and created jewels influenced by the vivid colors found in Florence and the Tuscan region in Italy, where he was born and educated.
It is not only the Jewelrista editorial team who likes Paolo Costagli's design jewelry. The list of celebrities featured in his blog wearing Paolo Costagli jewelry include Kristin Cavallari, Lauren Conrad, Jessica Alba, Elizabeth Hurley, Ashlee Simpson, Jessica Lucas, and Giuliana Rancic.
The best photo is of the beautiful actress Amber Valletta, mostly known for her appearances on movies like Hitch and Gamer, wearing earrings by Paolo Costagli.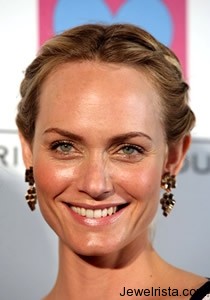 Jewelrista: Paolo, where do you find inspiration for new jewelry collections?
I draw my inspirations for my jewelry collections from my hometown of Florence, Italy, and the Tuscan region. My previous collections have been inspired from the vivid colors found in the Iris Garden in Florence, the warm colors of the Tuscan countryside and the beautiful blue and green colors of the Mediterranean sea.
Jewelrista: Which celebrity would you want to see wearing your designs?
I would have loved to see Grace Kelly and Audrey Hepburn wearing my jewels.
Jewelrista: Do you manage to sell your jewelry online as well? If so, how do you convince people to do so?
Yes, we sell our jewelry online on the Paolo Costagli website. Our clients appreciate Paolo Costagli jewels because of the high quality materials, craftsmanship and signature Paolo Costagli design found in each jewel.
Paolo Costagli's designer jewelry is sold online, at his private by-appointment only showroom on Fifth Avenue in New York City and at luxury retailers, like Bergdorf Goodman.
To learn more about jewelry designer Paolo Costagli, visit Paolo Costagli.
As a bonus, here is a Jewelrista video about Paolo Costagli: