From mod to hi-tech, custom designs from the West Coast-based Deleuse Jewelry store are some of the finest pieces around.  Jewelry designer Janet Deleuse hast he innate ability to take simple diamonds and old-fashioned stones and create haute fashion looks any jewelrista will covet!  Here, some of the collection's most painstaking creations in citrine make the semiprecious jewel sparkle in an entirely new light.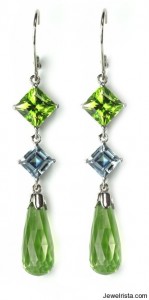 Above, jewelery designer Janet Deleuse combines dainty, teardrop-shaped peridot earrings with luscious aquamarine for a look that is truly enchanted!  The versatile green of peridot is much more than simply a birthstone.  This iconic shade of gemstone is fit for nearly any lifestyle!  We love how the stone alternates easily with other semiprecious gems.
Why be green with envy?  Get going with gorgeous peridot looks in classic, vintagelike settings (like an emerald-cut ring) or bohemian looks inspired by city street style.  Deleuse Jewelry does it all, creating intricate ear jewels of peridot surrounded by ultra-glamorous diamonds.  Perhaps one of the most noteworthy pieces in this jewelry collection: Bohemian Earrings in peridot and aquamarine (below), surrounded by flawless white diamonds.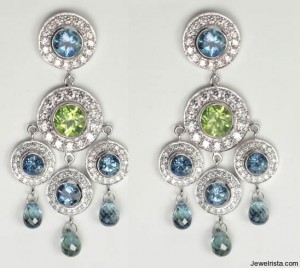 Jewelry experts Jeff and Janet Deleuse use their scientific backgrounds and extreme design talent to make custom pieces set in platinum and 18=karat gold.  Check out more high-fashion looks from the Deleuse Jewelry collection at deleusejewelers.com.