Finding the perfect piece of jewelry can be a bit tricky especially now that there are a lot emerging on the market. Doing this is just like looking for the perfect clothes to wear, it's hard. Wearing a nice piece of jewelry is a must for most girls. If an individual is looking for some jewelry to wear, then it is best to consider searching for designers. This is much easier because if she finds one of the designs lovely, then she will surely love the rest too.
To do this she can try searching for great designers on the internet first and check reviews coming from satisfied customers. Aside from this, if she is into the Hollywood celebrities, she can also look for the amazing jewelries worn by her favorite people.
When looking for a designer, it is suggested to try the jewelry line of Sabine G.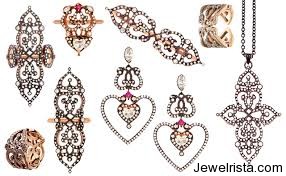 The Work
The jewelries are mostly inspired by medieval relics which are all beautiful. The designs are all created based on the inspirational relics found during the travels done by Sabine. All the designs are inspired by the relics from the 12th century which was seen by Sabin during her travels all around the globe. She has translated all these relics to be enchanting and delicate. The crafting is then done by Florentine. An individual will surely find it to have a high quality craftsmanship which can be truly considered as centuries old. All of the collection has a heart shape design found which is represented through the use of metal or stones such as rubies and diamonds.
The Designer
She was born in Geneva, Switzerland and spent most of her time travelling all around the world. Sabine G finished her studies in The Gemological Institute of America.Most of her collections are inspired by the motif of both West and East. It has also been her life motif. Her collection 'relic' has been inspired by the medieval box and its engravings. Each of the jewelry is hand crafted by expert artisans in Florence, Italy. Sabine thoughtfully and carefully creates the designs of each 18k rose gold piece in order to complement each other.