Farah Khan Ali is a famous jewelry designer from India. In 2004, she established the company "Farah Khan" which features her very own creations of jewelries. She is well known among the prominent business families in India as well as the renowned Bollywood stars. She is also known for her jewelry designs with Swarovski.
Two of internationally known artists that were seen wearing her jewelries are Joan Rivers, Oprah Winfrey and Jennifer Lawrence.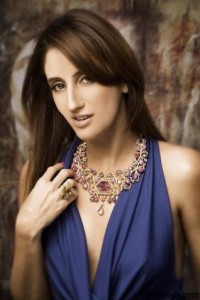 Recognitions
During the 10th anniversary celebrations of The Indian International Film Awards (IIFA) in Macau, she made history in the event by being the only jewelry designer to be worn by more than 10 Bollywood stars and personalities in the Green carpet.
In January 2010, she was given recognition by the Lions Gold club as the best Jewelry Designer and also received the DNA award for the most stylish swan.
Her prowess in jewelry designs is attributed to her knowledge in the sciences of natural and artificial gems and gemstones. This knowledge in gemology enforces her natural talents to present ladies with great accessories that they can walk in the limelight wearing their enchanting smiles and gracefulness.
In an interview, she quoted, "I don't love to design, I live to design." And it clearly reflects on every piece of jewelry that they make. In addition, she is proud to present her patrons with a timeless piece of art that can be passed down for generations bringing unforgettable memories with it as it is passed along.
One of the collections that made a lot of jewelry enthusiasts excited is the Farah Khan's Spring Sparklers collection. It is wide selection of different jewelries that features the vibrant colors of spring. Whether they want to be bold with the sparkly and bright orange carnelians or purple tanzanites or they can be delicately gorgeous with morganite and aquamarine. Each jewelry is designed with intricately patterned diamonds to emphasize the beauty of the colors of the stones that were used on each of the jewelries.
This is exactly how her creations are known, superb craftsmanship, crafted with discriminating intricacy and bears a uniqueness that is both adventurous and gorgeous.