Paloma Picasso was born in Paris in 1949. Her popularity is attributed to her brilliance in jewelry designs. In fact, she sends jewelry design concepts to Tiffany & Co. Being a daughter to two of artistically inclined personalities, Pablo Picasso, who is a well known 20th century artist and Francoise Gilot, a painter and a writer. In Spanish, her name means "dove" and is depicted in a lot of her father's creation which includes Paloma with an Orange and Paloma and Blue.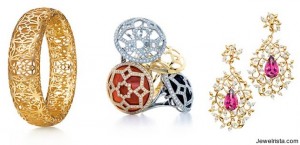 Paloma Picasso exhibited artistry at a very young age. She started creating jewelries during her teens. And then she was found to be designing jewelries for the famous Yves Saint Laurent. It was in 1979 when John Loring, Tiffany's design director, asked her to come up with a table setting for one of Tiffany's shows. A year after that, her career with Tiffany's started and blossoms up until now.
Paloma Picasso and Tiffany
Paloma Picasso is one of the Tiffany's well known jewelry designers that deliver captivating earrings, necklaces, rings and bracelets for different occasion. With her jewelry designs, a woman's delicate and beautiful features are accentuated.
She is well known to produce jewelry designs of abandoned sophistication with striking influences but is well identified as her pure originality.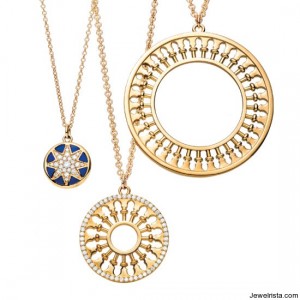 Some of her recent collections with Tiffany & Co
For the longest time that she has been designing jewelries for Tiffany's & Co, her creations are always loved by Tiffany's patrons. Below are some of her recent collections with the famed jewelry company:
Paloma Venezia. A collection of rings, pendants and earrings that are inspired with Venice's captivating lights and lanterns, as well as the reflection of waters when you visit the amazing city.
Paloma's Dove. Her name means "dove" in Spanish and is the inspiration to this beautiful collection of dove pendants and bracelets.
Paloma's Zellige. This collection of beautiful and seemingly calculated collection of geometric designs includes a line of stunning earrings, rings and medallion pendants.
Paloma's Calife. A collection of rings and bangles that were inspired by the sunsets, museums, landscapes, architecture incorporated in a motif of beautiful intertwined bands influenced by the beauty of Orietalists artists dating back to the 19th and 20th centuries.
Paloma's Graffiti. A collection of rings, cuff links, pendants and bracelets where the designs were influenced by the graffiti she witnessed in New York.