Todd Reed is well known for his breathtaking jewelry designs that range from rings, bracelets, earrings, necklaces and men's accessories. His eloquence for art and functional artistry is rooted to the way his mom made sure that he grows up in an environment where creativeness is always encouraged.
His mom is a respectable commercial illustrator and she made sure that Todd is always exposed to being involved with doing paintings, drawings or making anything that is both aesthetically attractive and functional.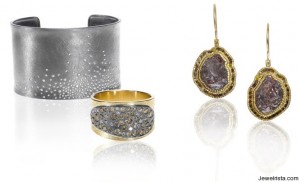 What got him to the Art of Jewelry Making?
Todd Reed was only ten years old when he witnesses something that he would always remember for all of his life. They were in a family vacation in Bisbee, Arizona when he came across to seeing a silversmith as he created a body adornment out of a sheet metal that seemed like an instant. He watched the man in awe as he worked delicately with the masterpiece.
After getting involved with designing different sorts of materials and creations, he eventually graduated from culinary school with honors. He became friends with a famous diamond collector who would introduce him to the artistry and mastery that is associated with designing the rough and raw diamonds. His friend got him even more interested with jewelries that it pushed him to know more about this craft. And now, over 20 years later, he is still engrossed in delivering great designs that are all unique and posses a character like no other.
The Jewelry Company
With the amalgamation of his love for designing and a deep interest in jewelry creation, he opened his first workshop in 1996 where he started creating jewelries for collectors. It grew to a dedicated and closely collaborated team of 16 master jewelers which now consists the jewelry company workforce called 'Todd Reed'.
It was in 2010 when he established his retail showroom in Boulder's Pearl Street, which became a notable destination for collectors from all over the world. His patrons would agree that at the core of his success are his exquisite and high quality unique jewelries, which were all hand fabricated. These are also finished in palladium, platinum, silver and 18k gold.