Nowadays, every girl is looking for something effortlessly chic but not mainstream. This has been giving rise to stores promoting new, unknown designers, with oodles of talent. Women now want to wear pieces of jewelry that are different and stand out even when taking a picture (or selfie!). Traditional artisan jewelry is now being revamped by many new designers to fit the modern woman's lifestyles and hobbies. The meaning of jewelry has changed from having an accessory to having something that flatters the wearer in a natural way.
One such designer is Ana Khouri. Brazilian by birth, Ana Khouri studied design in Sao Paulo and that is when Ana realized what her signature style would be. Being a student of Sculpture, Ana's designs are all about perfection and symmetry. The individual pieces are made in such a way as to fit the body and complement it, not to be just another accessory. Jewelry is Art to her and so she does not have any collections. Every single piece has its unique identity and is utterly beautiful. Having studied gemology as well, the jewels make the jewelry what it is.
Ana Khouri's designs reflect her personality and her natural confidence. Her line started in 2002 and consisted of pieces which looked like leaves strung beautifully together and long spindly spiders shaped earrings. The first line also included bracelets and rings. Gradually, she moved onto accessorize glam queens such as Alicia Keys with one-of-a-kind head pieces. The materials mostly used are white gold, rose gold, and white/pink diamonds.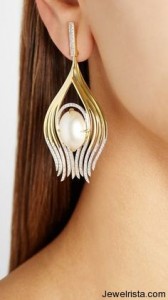 The gift of her meticulous designs reached the public purely because of a coincidence. Net-a-porter was impressed with Ana's work and decided to put out the line themselves.  Pieces are also available at Barney's and other select stores in Miami. This designer's jewelry now has a starting price of $500 and has been worn by the likes of Jennifer Lawrence, Demi Moore, and Kate Winslet. Having started from nothing, Ana Khouri has won the hearts of many Hollywood beauties with her funky yet symmetrical designs, and there seems to be no stopping her from becoming one of the biggest names in jewelry design.