Deriving inspiration from ancient coins, metals, and natural gem stones, Agas and Tamar is in perfect harmony with both the past and present.
The collection is inspired by absolute nature, in its singularity, which offers a unique stone. Don't miss the video below!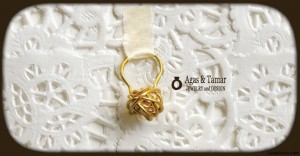 Amber, tourmaline, aquamarine, and diamond, individually or mixed, the jewelry reveals an extraordinary design and the finished creations still possess an imprint of the raw material.
Etched with gems, ancient coins, and precious stones, every piece is intense and whimsical, result in in a beautifully clean line. Meticulous and delicate, every piece is a handmade masterpiece.
Here's a video from the Jewelrista visit to Agas & Tamar. Enjoy…
Independent, elegant and contemporary, the Agas and Tamar collection is dedicated to the urban man and woman, who dream of a unique creation. The collection reflects a deep personality which conveys a philosophy of an interconnection between inspiration, craftsmanship and jewelry.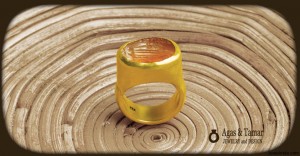 It is not a coincidence that Agas and Tamar designs (meaning "pear and date" in Hebrew) take their names from nature.
The designers Einat Agassi (the "Agas") and Tamar Harel-Klein (the "Tamar") met while studying in Yafo and joined together to create this unique design studio. They have been working together in the same location on Shabazi Street in Neve Tzedek for the past 10 years, combining with a strong friendship.
Their belief in the synergy between nature's materials and the artisanship reflect in their jewelry, which combines a raw look and classic touch. The collection for both men and women include rings, earrings, bracelets, necklaces and cufflinks.
Between the old and the new, its origin from an ancient culture, this is the traditional world of Agas and Tamar… in Neve Tzedek, one od the oldest areas in Tel Aviv, its small and narrow paths characterize the neighborhood, where it is a joy to be lost.
Every street finds its inspiration from the past, belongs to the present, and relates to the future. Neve Tzedek is the jewel of Tel Aviv. Strolling down Neve Tzedek is like walking in an outdoor museum, with its old buildings, picturesque courtyards, and narrow Shabazi Street.
Passing the small windows and coming in through an old metal door, is the home to mysterious store, discover Agas and Tamar gallery and jewelry design studio. The workshop envisioned by the designers radiates an artistic feel. This single space shows both the display and the work area, so the entire process can be experienced.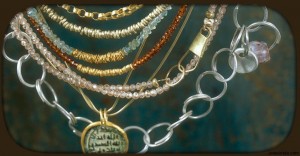 Website: Agas & Tamar.