Award-winning designer Maria Pryor is responsible for taking South America — and fashion capitals of the world — by storm.  Born in Argentina and trained in Milan, Pryor's boldly unique, often gothic-inspired designs are known for their dramatic jeweled collars and artful appliques.  Contemporary boutique Opening Ceremony has brought some of Maria's most exquisite collar jewelry, straight from her Buenos Aires boutique.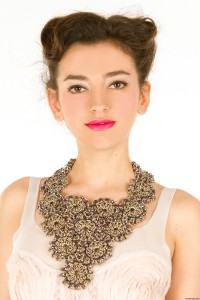 Unforgettable, gorgeous designs make a grand introduction.  The bust-length, golden chainmail bib collar necklace is all that's needed to create a standout couture experience.  Made to pair with Maria Pryor couture, this amazing woven piece glistens with the use of aurora borealis beads.  It is one of several pieces rarely seen outside of South America!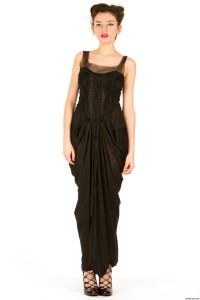 A trip into whimsical, antique-inspired couture makes Maria Pryor one of the world's most influential names of fashion.  Her collection of fine costume neckwear and flattering gowns are enough to remind the "everyday" woman she is one of a kind.
Click here to read more about jewelry designer Maria Pryor.