Maria Pryor is the Argentinian designer famed with lighting up the night (or day!) with her boldly colored couture dressing, which is  adorned with unmistakably bold decor.  Her rose-scented Buenos Aires boutique is a must-stop for retailers seeking unique objects of beauty — including many designs exclusive to South America!  Amongst the designers most valuable trademarks: Chainmail-and-jeweled collar neckwear, often included on Maria Pryor gowns.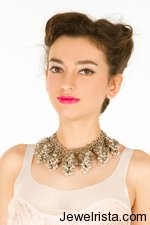 Amazing, collar-style neckwear like the Chainmaille w/Crystals (available at Opening Ceremony) transforms any plain cocktail dress, gown or solid tank into an ethereal outfit.  From ivory-cream satin to the deepest royal blue, this stunning clear crystal choker necklace is made for red carpet status.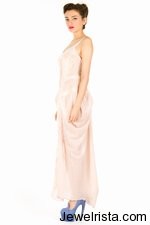 From South America to Miami Fashion Week, then New York couture, Maria Pryor designs have traveled up the coast to appease even the most discerning (and open-minded) fashionistas.  A vintage-antique style in her dresses, collars and bib-style jewels provokes imagination and ultra-feminine style.
Click here to read more about jewelry designer Maria Pryor.