This Neodymium Magnetic Healing Bracelet is part of the magnetic and therapeutic jewelry collection by Jewelry Designer L Michaels.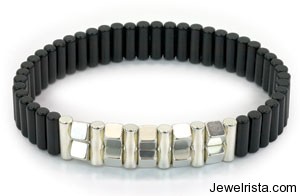 The magnetic bracelets from the L Michaels Cylinder and Square Series showcase the unique designs by incorporating cylinders and square. These contemporary therapeutic bracelets are part of their Neodymium Jewelry Collection and are hand-crafted in the USA. We have found that the designs from this series appeal to both men and women and go great with both casual and formal wear.
Neodymium Magnetic Healing Bracelets offer alternative health and therapeutic benefits.

Magnetic Jewelry is being turned to by more individuals each day as an alternative treatment approach to relieve the pain and symptoms associated with: Tendonitis, Carpal Tunnel, Tennis Elbow, Arthritis, Sports Related injuries, and other Body Aches. It is Adjustable, 100% safe, with no side effects and no drugs.
To learn more about this healing bracelet visit Jewelry Designer L Michaels.