Jewelry Designer L Michaels specializes in Magnetic Therapeutic Jewelry & Bracelets and features hand-crafted designer magnetic fashion accessories are for anyone who wants to look and feel better.
The owner behind the brand name is Michael A. Unger, Ph.D., and according to him, Magnetic Healing Jewelry can relieve aches and pains associated with: Tendonitis, Tennis Elbow, Arthritis, Carpal Tunnel, Body Pains, Sports Injuries, and more.
The L Michaels designer magnetic jewelry has been featured on the Today Show as a great gift for Mother's Day.
Magnetic jewelry benefits include:
• Improved Energy and Immunity
• Improved Stamina
• 100% Safe (No Side Effects), Drug Free
And there is more. Neodymium, magnetic jewelry, magnetic bracelets… If you are looking for neodymium and magnetic jewelry, then they have the best selection of therapeutic magnetic bracelets, necklaces, chokers anklets and rings for you. Their hematite beaded wraps and neodymium jewelry represent the most fashionable and therapeutic magnetic jewelry available today. The L Michaels brand states that they hand-make their magnetic jewelry here in the USA to combine style and health.
Visit the website: L Michaels Jewelry Designer.
Magnet Healing History

Source: L Michaels Jewelry Designer.
Magnetic therapy has been practiced for thousands of years. The healing properties associated to magnets are based on a basic concept of using magnetic energy to increase blood flow to a specific region of the body. Magnetic healing has been widely accepted and practiced by other cultures for hundreds of years. Magnetic blood flow therapy is currently gaining popularity in the US.
Western medicine practitioners are reluctant to accept the influence of magnetism on health because of a narrow focus on biochemical functioning. However, recent developments have lead scientists to believe that magnetic forces do affect bio-processes in living things. Research suggests that human beings emit and receive magnetic energy. Furthermore, scientific instruments have been developed to record the level of magnetism generated by the body's vital organs.
Many medical processes are currently under evaluation to incorporate the energy our body is putting out. One of the best examples of the health benefits of magnetic energy resulted from an innovation developed by NASA. After magnetic generators were installed in spacecraft, astronauts experienced fewer health problems. The potential causality relationship of the generators to improved health is validated because bipolar magnetic fields are absent in space.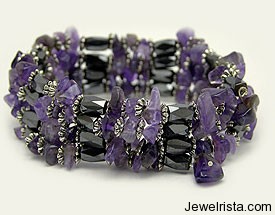 How to Take Care of Your Magnetic Healing Jewelry
Proper care is necessary to extend the life of your magnetic jewelry. Leaving magnetic jewelry in a wet area or prolonged sun exposure may result in slight degradation of the materials. However, our magnets are coated to significantly help prevent them from oxidizing and rusting. If treated with proper care and not left outside for extended periods of time, you can expect our jewelry to last a lifetime.
Nickel is the primary coating used to withstand corrosion. This includes black nickel and silver nickel that's polished to provide a lasting luster. Gold is used to achieve the same effect but with a different look.
Finally, a plastic epoxy may be used for absolute protection from corroding and rust. We coat our magnetic necklaces and bracelets with a combination of these plantings to ensure the most protective finish.
To guarantee the life of your jewelry you may want to avoiding wearing it while showering or swimming. To clean magnetic jewelry, simply buff on basic metal polish without acid or other stripping agents.