The Beauty of Wearing History
Agas and Tamar's use of coins that date back to ancient Jewish, Roman, Byzantine, and Islamic periods of the holy land bring history to life.
Imagine wearing a necklace, or ring with a coin or element that dates back thousands of years.   So Chic, so original, so Agas and Tamar.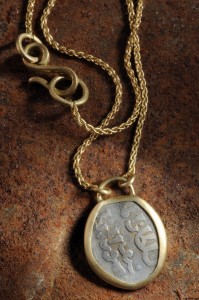 In this picture from Us Weekly you see Sheryl Crow wearing such an old coin necklace by Agas and Tamar.

To learn more about Agas and Tamar jewelry and designs visit – Agas and Tamar Jewelry Designers.