"Emblema" Ring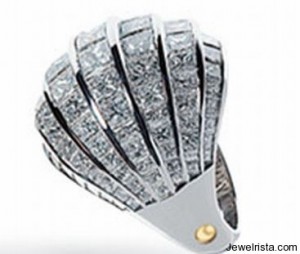 Today as well as in the past, Luca Carati is one of the fewest goldsmith's who's jewelry, from the design to the sale, is entirely developed inside the factory.
For Luca Carati the diamond is pure passion, which gives to the person who will receive it, an emotion that will last forever.
Its creations are the result of the goldsmith's extraordinary ability who associate manual techniques with the newest technologies, making every piece a unique piece of art.
The beautiful designs, with its elegant and creative lines makes every piece belonging to a beautiful, magic and sparkling world, where the esthetic and cultural values will live forever.
The quality is assured from the beginning with the acquisition of the primary material; Luca Carati' s experience is revealed in the valuation of the diamonds which are selected from the best markets in the world: all first cut stones, natural, white or colored, in brilliant Princess, Baguette or Tapered cut.
The diamond becomes the protagonist in a harmonious equilibrium between innovation and classicism.
To learn more about this ring, visit Luca Carati.