Diamond Sunflower Ring (yellow, black, green):
For me, jewelry is a work of art
Each piece of my collection is a creation of a new form, texture and structure, representing a part of me and expressing my individuality, given that I carefully plan and design with great thought. Balancing of the color, light and form perfects the composition of every creation.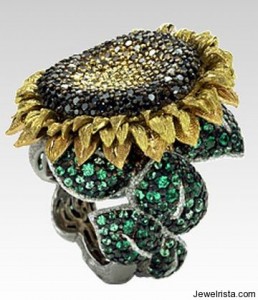 Awards:
AGTA Spectrum Awards, 2002
Platinum Passion Award, 1998
To learn more about this pendant, visit Alex Soldier.