New Year's Eve Jewelry Ideas by the Jewelrista
New Year's Eve is almost here and a new look is due for the party. Hurray! The best way to complete your look for New Year's eve party, is with some special jewelry. Glitter, sparkle and anything shiny goes. Think fireworks and champagne. To help you out, the editorial team of the Jewelrista magazine chose 10 handmade jewelry pieces. Each of them unique, one of its kind, just like you. And all available for immediate sale online. And no, we don't get a commission or anything. This is especially for you – Happy New Year!
1. Open the New Year with a Star
Be the star of the New Year's Eve party with this shiny star necklace. With some gold and a diamond, it costs $1,050.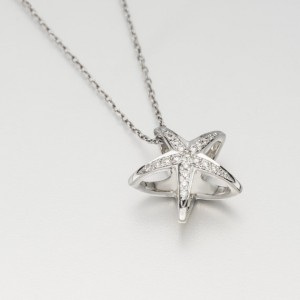 2. Ruby & Opal Ring
I love the gemstone Opal with its inner light. And in this ring, together with the Ruby stones, the glitter screams Happy New Year! Handmade, unique and only $925.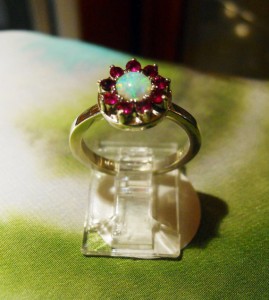 3. Tiny Nest Earrings
These small gold studs can complete a glamorous look for any party. The shiny finish seems just right for the New Year effect.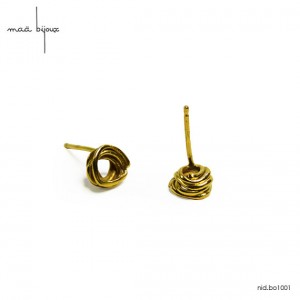 4. Golden Bangles for your Wrist
If you go dancing, don't neglect your wrists who do a lot of the moving. These hand etched Gold plated brass and copper bangles, for $236, have have the needed glitter effect. Plus a high-end look.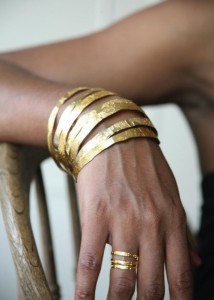 5. Tanzanian Sunstone Gemstone Ring
This ring features a unique gemstone with an internal sparkle. Exactly what't needed for a party under the fireworks. Only one is available for $228.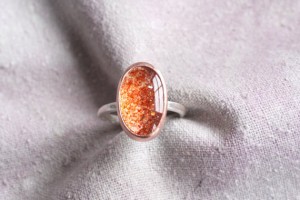 6. Rainbow Statement Necklace
OK, this is unorthodox. This Swarovski Large Oval pendant sparkles in the colors of fireworks. For $220 and with some courage, you will stand out in any dancing crowd.

7. Metallic Flake Titanium Ring
This gold metallic flake Titanium ring is quite unique (although it's not one of its kind). It costs $172.50 and it is a bold choice. Not as elegant as rough. And yet may work well for the New Year party.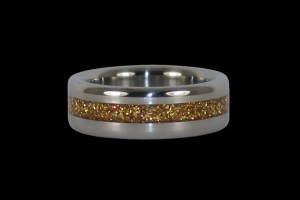 8. Blue Glitter Ring
Think sky, fireworks and champagne. The perfect New Year's Eve jewelry can include a glitter ring like this big little beauty. Made with sterling silver, only one is available for $145.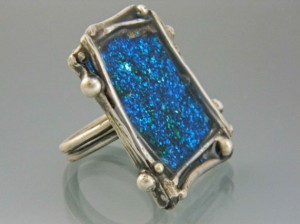 9. Muscovite Drop Earrings
Something about these drop earrings caught our eye. And the sparkle of the Muscovite gemstone will continue to glow on you during the New Year's Eve party. They look more expensive than $148.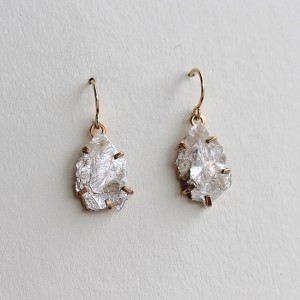 10. Peacock Pyrite Claw Necklace
Another gemstone with an internal glitter is held in this Peacock Pyrite Claw Necklace. It's gentle yet bold. And for $140 only, it will add the party glitter you're looking for.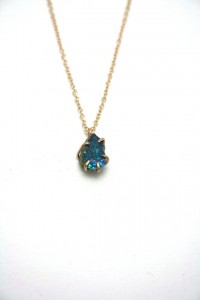 11. Bonus: Blue Goldstone Ring
The plan was to list only 10 New Year's eve jewelry ideas. But because some are a little expensive for a party, here's a bonus. All the glitter needed in a ring and for receculesly low price of $13.50 – on sale now (from $18). This ring is low cost and still gets the job done.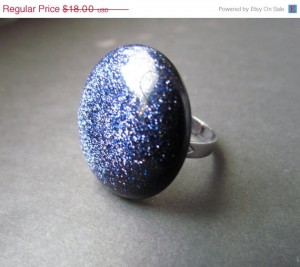 More from the Jewelrista
Specifically for the winter holidays, you are invited to browse through some wonderful handmade Christmas gift ideas.
Do you love jewelry design? Then your are a Jewelrista! Connect with the Jewelrista Magazine and get more jewelry design posts and updates on your feed. Simply click Like on the Jewelrista Facebook page.